TeacherEase Parent Access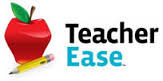 TeacherEase is an interactive student information system. It will allow you to view your student's grade and homework information instantly on the web as it is posted in TeacherEase by the teachers. Additionally, it will facilitate improved communication between teachers and parents to track student progress.
Please click HERE or the picture above to login to TeacherEase.
**For extra instructions on how to find your students grades click HERE**